BOOKING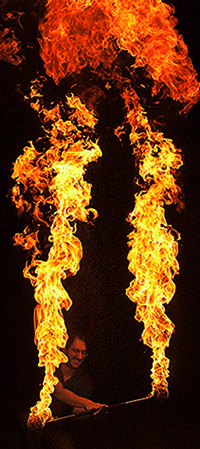 Dancing Djinn has been delighting audiences around Vermont and New Hampshire for more than four years. Our high-energy shows are guaranteed to have your crowd gasping and cheering as we light up the night by hula-hooping with a burning ring of fire, dancing with gigantic fireballs, and breathing 10 foot tall pillars of flame – all to the beat of heart-pounding music. We've been compared to fireworks shows, except with a close up and intimate feel. Let us make your event one people will be talking about for years to come!
We usually give 30 minute performances but we're happy to tailor our act to your needs. We are fully insured through www.americanfireartists.com and provide our own equipment and safety technicians.
For rates and booking information contact us at
dancingdjinn@gmail.com
so we can help make your event a spectacular success!
Previous Performances
Private Party - Long Island, NY - 2011
First Night - Saint Johnsbury, VT - 2009, 2010 & 2011
Winter Carnival - Newport, VT - 2011
Old Home Day - Lunenburg, VT - 2010
Jerry Jam - Sugar Hill, NH - 2010
Church Street - Burlington, VT - 2010
Rotary Club - Lunenburg, VT - 2010
Grafton County Senior Citizens Council - Littleton, NH - 2010